Sen. Cruz Delivers Floor Speech Demanding Release of Mark Swidan, Wrongfully Detained in China
WASHINGTON, D.C. – U.S. Senator Ted Cruz (R-Texas) today introduced a resolution he authored calling for the release of Mark Swidan, a Houston, Texas resident who has been unjustly detained by China since 2012. Read that release here.
This evening, Sen. Cruz delivered floor remarks pertaining to the resolution. Watch below: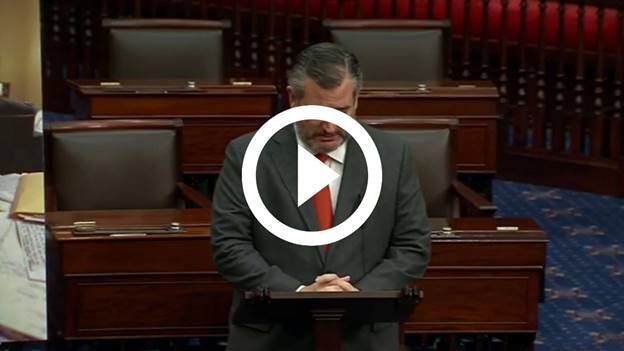 Read the resolution here.
Read a rough transcript below:
Madam President, I rise today to speak about a gross miscarriage of justice, the imprisonment of Mark swit on by the government of China and the Chinese Communist Party. Mark is from Luling, a small city in my home state of Texas. His mother, Miss Catherine Swidan on still lives in Luling. While Mark eventually became a resident of Houston - my hometown for over 10 years - Catherine has been waging a desperate battle to see her son again.
In 2012, Mark traveled to China on a business trip, which turned into a nightmare. On November 13, 2012, Mark was abducted by China's Public Security Bureau while he was taking his family back home. A witness to the abduction has said that Mark was detained because Chinese officials wanted to view the contents of his cell phone. Mark was accused of being a part of a criminal conspiracy, with 11 other individuals to manufacture and traffic drugs, charges that Mark is denied and which had been debunked over and over again. Chinese authorities tried to coerce Mark into confessing. He refused. And he pleaded not guilty in a trial that occurred in November 2013. During the trial, the prosecution didn't produce any forensic evidence to back up their allegations. And no drugs were found on mark or in his hotel room. Records and Mark's passport show that he wasn't even in China during the time of the alleged offenses, and the 11 other individuals indicted in relation to this alleged drug conspiracy couldn't identify Mark.
Nevertheless, outrageously in 2019, a Chinese court sentenced Mark to death. Mark remains unjustly detained today. He is suffering in a Chinese prison right now. As we speak, in prison, Mark has been kept in deplorable, abusive conditions. His jailers seek to break his will and break his faith. They have confiscated his Bible and his rosary. Mark cell exposes him to extreme heat and extreme cold. He's deprived of sleep and subjected to physical abuse. He is in danger of high blood pressure, skin infections and asthma. He's lost more than 100 pounds. His health is dire.
Throughout all of this, Mark has been denied access to his family and access to American diplomats. Mark has communicated with his mother and his mother has told me and told the world that the Chinese Communist government has failed to break Mark's faith which remains strong.
I spoke with Mark's mother earlier this week. This is a mom whose heart is breaking. This is a mom who wants to see her son again. This is a mom who wants to hold and hug and care for the son she loves. The treatment of Mark has been atrocious. So much so that even the United Nations has called on China to release him. The Working Group on Arbitrary Detention, a UN group of human rights experts who investigate cases of arbitrary detention of around the world found that Mark is being held in violation of customary international law and international norms include During the Universal Declaration of Human Rights. The world can see that the Chinese Communist Party is trying to use hostages and hostage taking as a tool of statecraft. The Chinese Communist Party says they want to be taken seriously as a great power and a great nation and they say they want to be respected on the global stage. But their treatment of Mark is not how great nations and great powers behave their treatment of Mark is how third world despots act.
Madam President, I have drafted in this week introduced a resolution calling on the Chinese government and the Chinese Communist Party to immediately released Mark. I'm joined by my colleague from Texas Senator Cornyn, and by Representative Cloud from Texas, in the house, who was introduced the same resolution in the House of Representatives. This resolution not only calls for Mark's immediate release, it also condemns China for withholding from Mark access to his family and to proper medical care. Furthermore, it calls upon the Biden administration to prioritize efforts to secure by Marc's release, both in their conversation with Chinese diplomats and international forums.
In a few days, Secretary of State Blinken will be in Beijing. And he will have an opportunity to finish the final chapter of this tragedy. I'm calling on the Biden administration to use all of the tools at our disposal to secure marks release. And I'm calling on the government of China to finally release mark. Madam President this ordeal has got to end it has to end for Mark. It has to end for his mother. It has to end for his family. We must and will do more so that Mark can come home. I yield the floor.
###