Cruz News: September 23, 2017
September 23, 2017
Greetings,
This week I was pleased to see the Senate fulfill its first responsibility: ensuring the defense of this nation by passing the FY2018 National Defense Authorization Act (NDAA). I voted in favor of this bill, one that is critically important to the Lone Star State, with more than $512 million of military construction funds for Texas defense installations, an increase in the number of F-35s to continue our air superiority, and a well-deserved pay increase for our brave Soldiers, Sailors, Airmen, Marines, and Coast Guardsmen who defend our nation and freedoms every day. In total, I sponsored 13 amendments and cosponsored nine that were successfully adopted into the bill, benefitting both Texas and our military interests abroad and in space.
I also visited with first responders, volunteers and storm victims in Southeast Texas. While in Houston, I joined Sen. John Cornyn, Speaker Paul Ryan and other Congressional members. The U.S. Coast Guard briefed us on Hurricane Harvey recovery efforts before we went on an aerial tour of storm devastation. Afterwards, we visited storm victims in Friendswood and helped volunteers clean out damaged homes. Later, I traveled to Pasadena to visit with storm victims, and assist volunteers with relief efforts, before delivering remarks at the Gulf Coast Industry Forum. There, I discussed my priorities for Hurricane Harvey recovery efforts, fundamental tax reform, and the needs of Texas' ports and energy industry.
The incredible heroism of Texans throughout this devastation has been inspirational. I am grateful for the bipartisan commitments we're seeing from Congress to ensure Texans have the resources to rebuild and recover from Hurricane Harvey. My Senate office, led by our Hurricane Harvey recovery working group, continues to work to ensure swift and effective service to Texans and Texas communities in need of federal assistance following the storm. If you need additional information or assistance during the recovery and rebuilding process, please do not hesitate to contact my office or utilize the federal and state resources listed here.
Please read below for an update from this last week.
Keep Texas Strong,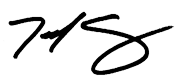 Ted Cruz
Sen. Cruz: 'America Is Standing With Texas'
Thursday, Following Sen. Cruz's visit in Friendswood with Sen. Cornyn, House Speaker Paul Ryan, and members of the Texas Congressional delegation, he traveled to Alvin with Team Rubicon to visit with storm victims and assist volunteers clean out flood-damaged homes. Read more…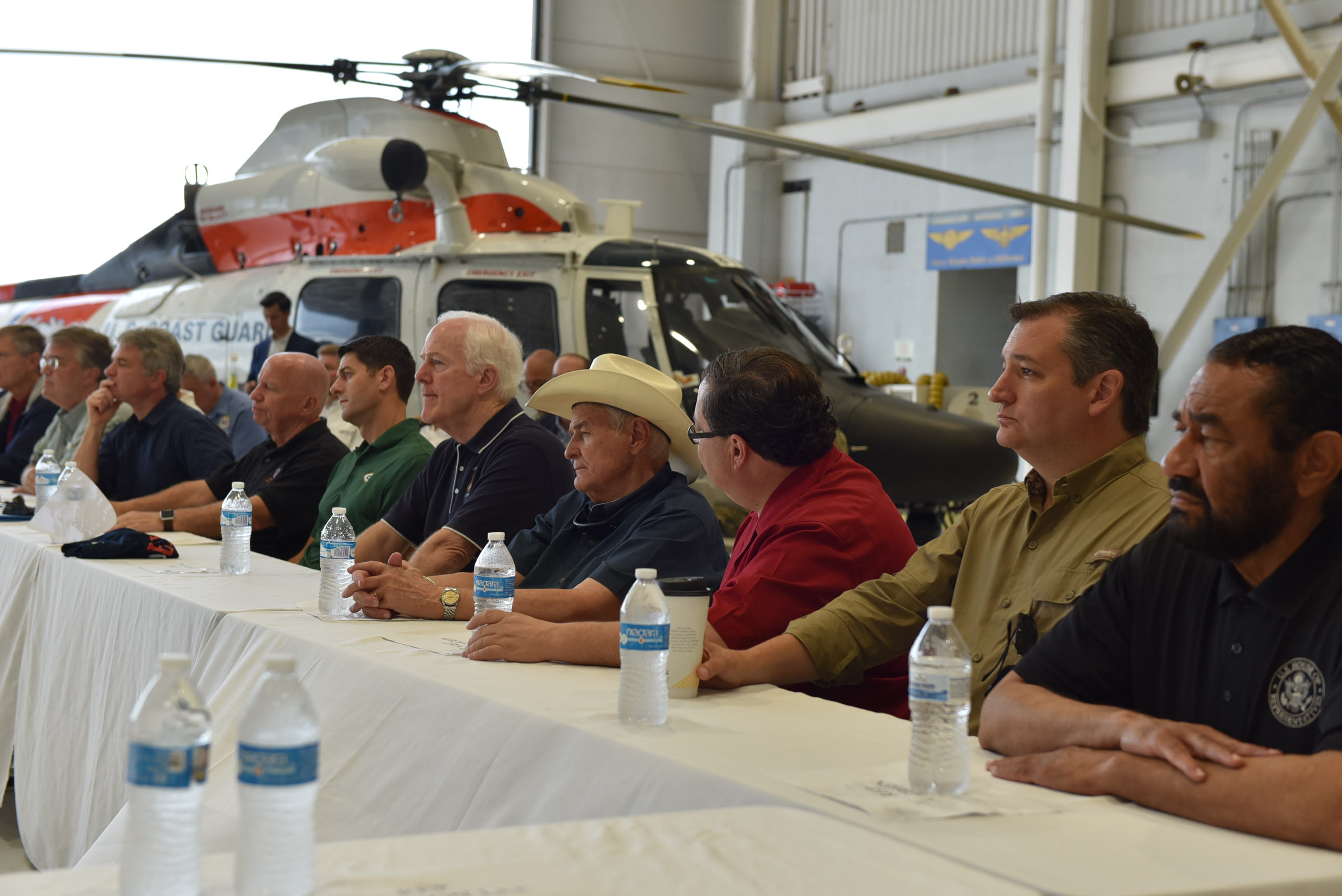 Sen. Cruz: 'The Texas Delegation is Committed to Acting as One'
Sen. Cruz Thursday joined Sen. Cornyn, House Speaker Paul Ryan House Appropriations Committee Chairman Rodney Frelinghuysen, House Homeland Security Appropriations Subcommittee Chairman John Carter, and members of the Houston Congressional delegation at Ellington Field for a briefing on Hurricane Harvey recovery efforts and an aerial tour of storm devastation and flood mitigation infrastructure. Read more…
Cruz, Cornyn Lead Bipartisan Letter Urging HUD to Speed Up Allocation of Harvey Relief Funds
Sens. Cruz and Cornyn led a bipartisan, bicameral letter from members of the Texas delegation to Department of Housing and Urban Development (HUD) Secretary Ben Carson requesting that HUD allocate the Community Development Block Grant Disaster Recovery (CDBG-DR) funds intended for Harvey immediately, lower certain statutory income requirements, give grantees maximum flexibility when funds are dispersed, and shorten the public comment period. Read more…
Sen. Cruz Issues Statement on President Trump's Executive Order Expanding Economic Sanctions Against North Korea
Sen. Cruz Thursday issued the following statement regarding President Trump's executive order granting expanded authority to the Treasury Department to enforce economic sanctions against North Korea. Read more…
Sen. Cruz Votes for Final Senate Passage of the 2018 NDAA
Sen. Cruz Monday voted in favor of final passage of the FY2018 National Defense Authorization Act (NDAA), which provides numerous military necessities, including over $512 million in military construction funds to the state of Texas for 2018. Read more…
Sens. Cruz and Blumenthal Lead Bipartisan Resolution to Commemorate Constitution Day
On Monday, Sen. Cruz, chairman of the Senate Subcommittee on the Constitution, and Sen. Blumenthal, ranking member of the Senate Subcommittee on the Constitution, authored a bipartisan resolution to commemorate Constitution Day and the 230th anniversary of the signing of the Constitution of the United States of America.  Read more…
Sens. Cruz, Blunt, Cornyn, Lankford Introduce Bill to Allow Houses of Worship to Receive Federal Disaster Assistance
Sens. Cruz, Blunt, Cornyn, and Lankford Monday introduced the Federal Disaster Assistance Nonprofit Fairness Act, which would make houses of worship eligible for Federal Emergency Management Agency (FEMA) Public Assistance program grants. Read more...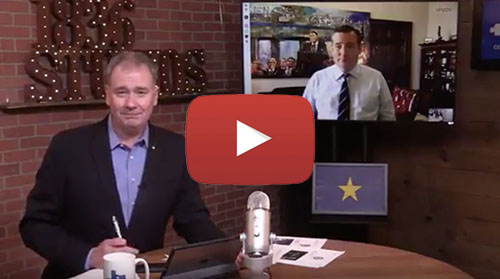 ICYMI: Sen. Cruz Joins Empower Texans on Facebook Live
Sen. Cruz  joined Empower Texans' Michael Quinn Sullivan Tuesday to discuss his most recent efforts on tax reform, Obamacare repeal and replace, NDAA, and Hurricane Harvey recovery, among other topics. Read more…
ICYMI: Sens. Cruz and Cornyn Op-Ed in The Houston Chronicle: 'Texas, We've Got Your Back'
On Tuesday, Sens. Cruz and Cornyn  authored the following op-ed in the Houston Chronicle on their continued relief and recovery efforts for those affected by Hurricane Harvey. Read more...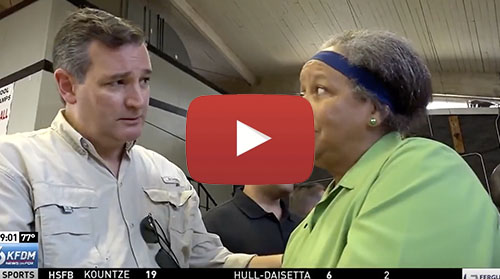 ICYMI: Sen. Cruz: 'The Entire Country Has Seen The Character of Texas'
Last Friday, Sen. Cruz visited storm victims in Meyerland, Port Arthur, and Rockport. In Meyerland, Sen. Cruz visited volunteers and surveyed damage at the United Orthodox Synagogues of Houston. Read more…
Sen. Cruz & Rep. Ileana Ros-Lehtinen Issue Joint Statement Expressing Concern Over OAS's Questionable Decision on Accompanying Electoral Mission to Nicaragua; Redouble Commitment to Passing NICA Act
Sen. Cruz and Rep. Ileana Ros-Lehtinen (R-Fla.) issued the following statement responding to the recent announcement of an Organization of American States (OAS) accompanying observation mission for the upcoming election in Nicaragua: Read more...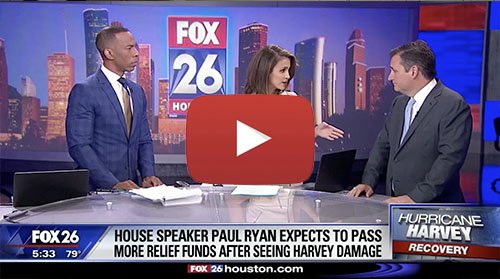 ICYMI: Sen. Cruz: Texas' Spirit of Unity Will See Us Through Harvey Recovery
Sen. Cruz appeared on KRIV-Houston 'Fox 26 News at 5pm' and KTRH's 'Michael Berry Show,' to discuss the path to recovery for Texas in the aftermath of Hurricane Harvey's damage and destruction along Gulf Coast communities. Read more...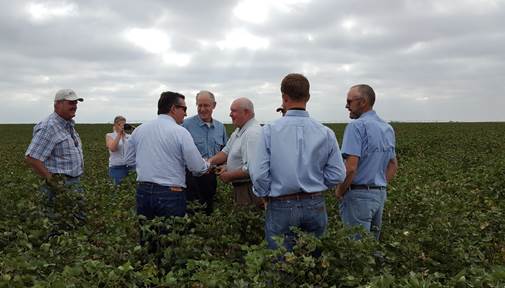 Sen. Cruz Promotes Economic Growth and Texas Agriculture in West Texas Visit
Sen. Cruz joined U.S. Secretary of Agriculture Sonny Perdue and U.S. House Committee on Agriculture Mike Conaway in Lamesa, Texas to tour a local farm and ranch. Later, Sen. Cruz, Secretary Perdue and Chairman Conaway met with agriculture industry leaders, local farmers and ranchers at the Southwest Council of Agribusiness Annual Meeting. Read more...
Sens. Cruz, Cornyn Praise the Nomination of Erin Nealy Cox as U.S. Attorney for the Northern District of Texas
Sens. Cruz and John Cornyn (R-Texas) released the following statements after President Trump announced his intention to nominate Erin Nealy Cox as U.S. Attorney for the Northern District of Texas: Read more...
Texans in Washington, D.C.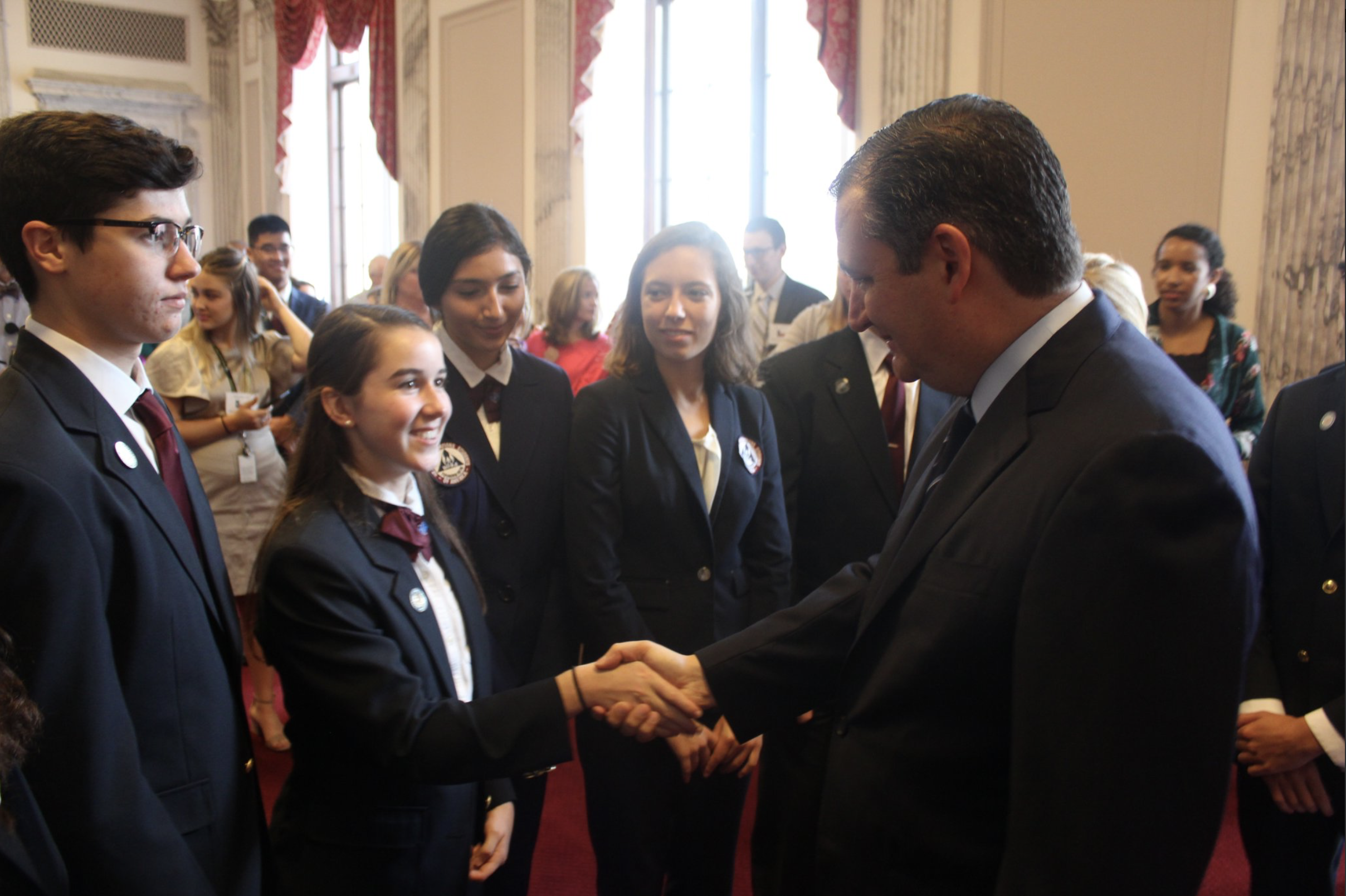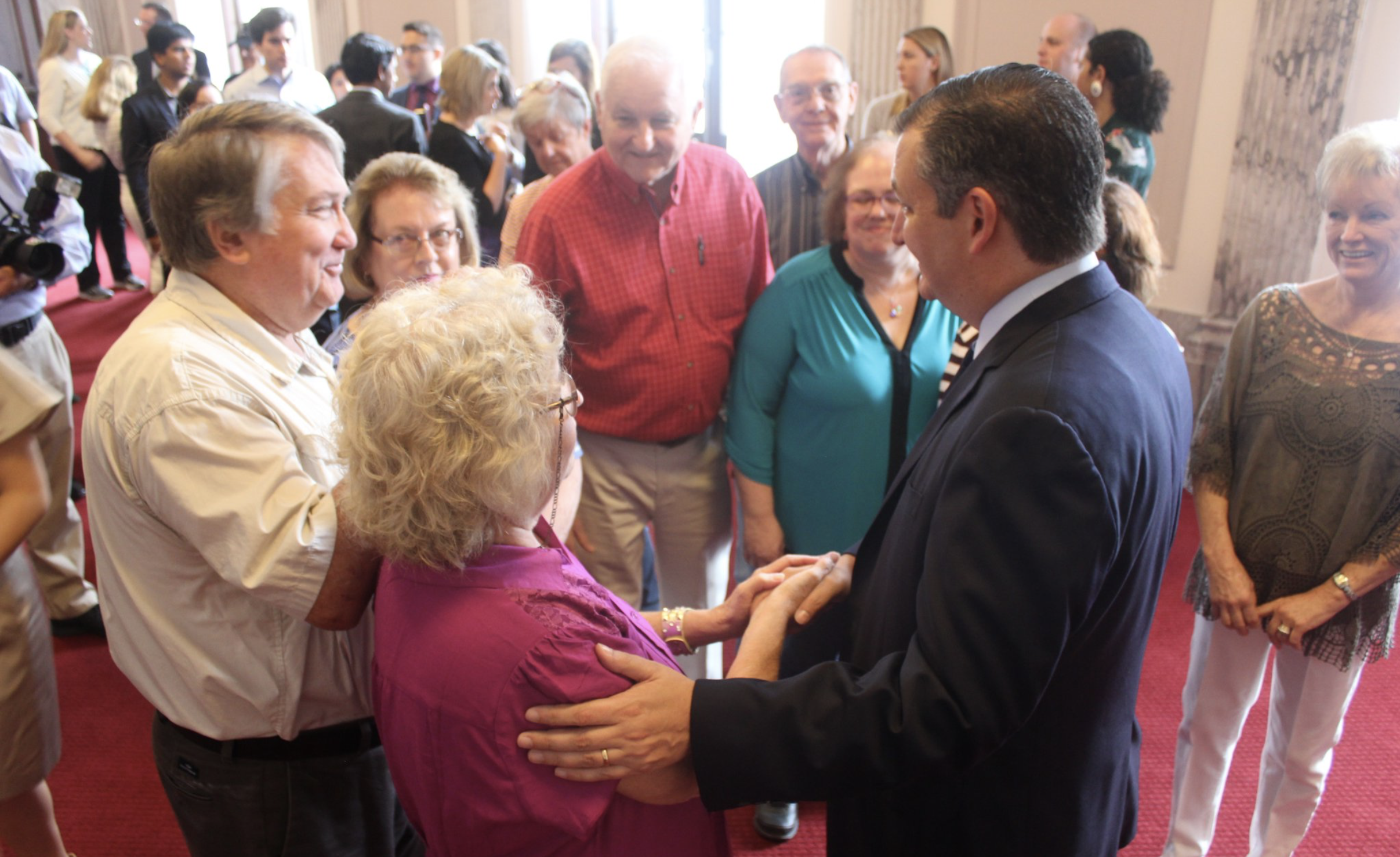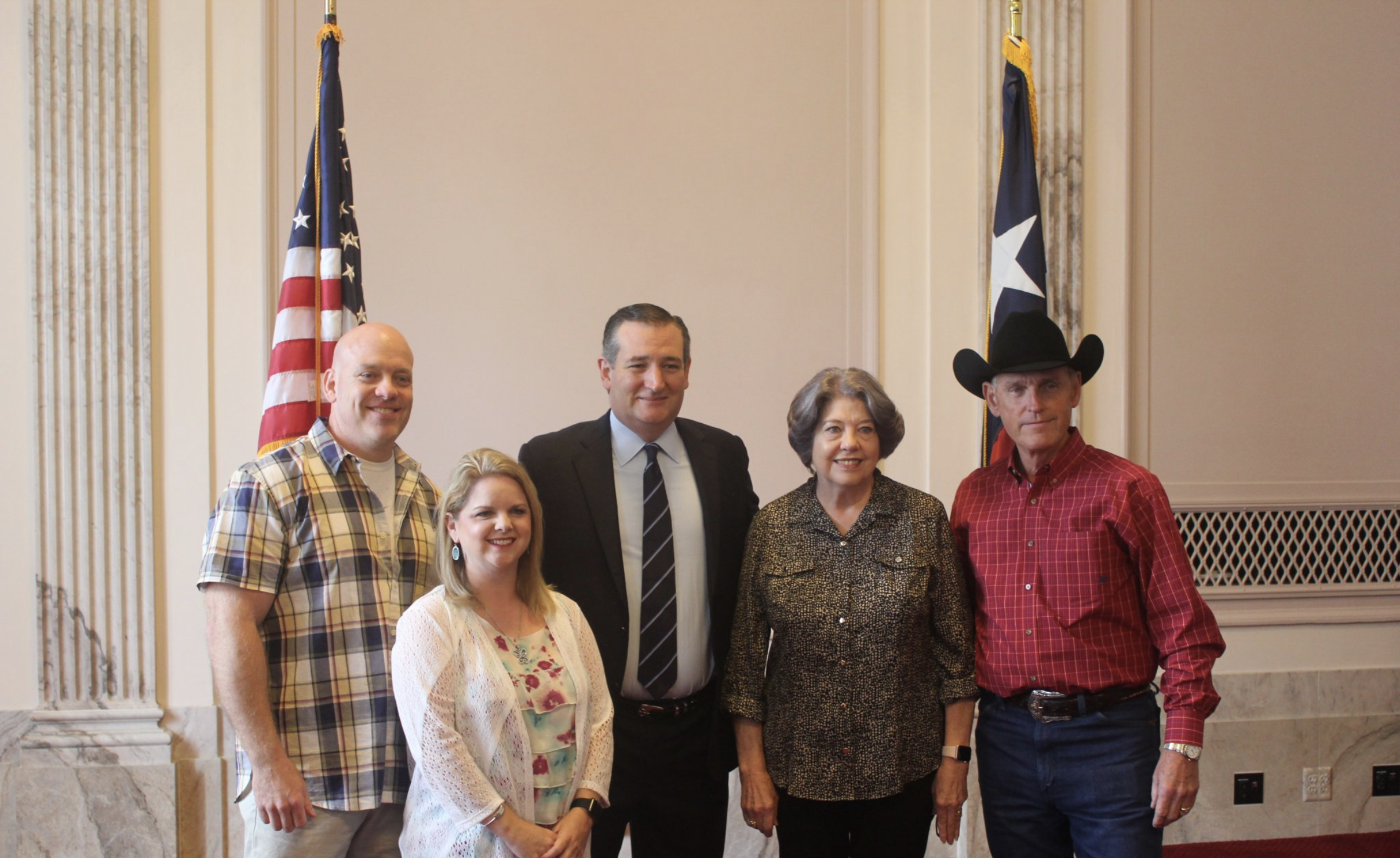 The full press releases may be viewed here.
Central Texas Office
300 E. 8th St,
Suite #961
Austin, TX 78701
Phone: (512) 916-5834

North Texas Office
Lee Park Tower II,
3626 N. Hall St., Suite #410
Dallas, TX 75219
Phone: (214) 599-8749

Southeast Texas Office
808 Travis St.,
Suite #1420
Houston, TX 77002
Phone: (713) 718-3057
South/Central Texas Office
9901 IH-10W,
Suite # 950
San Antonio, TX 78230
Phone: (210) 340-2885

East Texas Office
305 S. Broadway,
Suite 501
Tyler, TX 75702
Phone: (903) 593-5130

South Texas Office
200 S. 10th St,
Suite 1603
McAllen, TX 78501
Phone: (956) 686-7339
 

Washington Office
404 Russell Senate Office
Building
Washington, DC 20510
Phone: (202) 224-5922

 
If you no longer wish to receive these emails click here to unsubscribe.