Sen. Cruz Introduces Education Freedom Scholarships and Opportunity Act
Bill provides federal tax credit for nonprofit scholarship donations
WASHINGTON, D.C. – U.S. Sen. Ted Cruz (R-Texas) today introduced the Education Freedom Scholarships and Opportunity Act (S. 634), legislation that would expand elementary, secondary, and vocational education opportunities for students by providing a federal tax credit to encourage individuals and businesses to donate to nonprofit scholarship funds. Sens. Tim Scott (R-S.C.), Lamar Alexander (R-Tenn.), Joni Ernst (R-Iowa), Pat Toomey (R-Penn.), and Tom Cotton (R-Ark.) also joined as original cosponsors of the legislation. In the U.S. House of Representatives Congressman Bradley Byrne (R-Ala.) filed complimentary legislation. Read the full text of the bill here.
"I believe every student has the fundamental right to a quality education, as a quality education is the gateway to the American dream and stable, family-sustaining employment," Sen. Cruz said. "I introduced the Education Freedom Scholarships and Opportunity Act, which will drive increased investment in our students, by creating a federal tax credit for taxpayers that donate to scholarship organizations supporting elementary and secondary education as well as secondary and post-secondary workforce training. My bill allows for scholarships to give elementary and secondary students a personalized education experience, as well as scholarships for career and technical education, apprenticeships, certifications, and other forms of workforce training for postsecondary students. It is my hope that this bill will not only incentivize voluntary investment in our students, but will also energize a new era of opportunity in education and provide a brighter future for all Americans."
"Every student in America deserves to learn in an engaging, meaningful and personalized way," Secretary DeVos said. "No student should be denied that opportunity simply because of where they live or their family income. Education Freedom Scholarships will make a historic investment in our students and their futures, finally putting the individual needs of students above all else. I want to thank Senator Cruz for his long-time advocacy for education freedom and for his continued leadership in the Senate on this important issue."
"Every student in America should have the opportunity to receive a high quality education, and we can help accomplish that goal through a new federal tax credit. This model has succeeded at creating opportunity for students in Alabama, and I am hopeful through this legislation we can create similar opportunities for students around the country. I applaud the leadership of President Trump and Secretary DeVos to expand choice and freedom in education, and I am committed to working with them and Senator Cruz to see this legislation across the finish line," Congressman Byrne said.
"Education is the single-most impactful gift our generation can pass on to the next one. In every city, county, and state, we must do everything we can to ensure that access to quality education is top-of-mind as we strive to build a better life for our children. As part of my America 2030 agenda, I'm proud to partner with Senator Cruz to work towards a future in which kids like me, born into a single-parent family in poverty, have a chance to dream bigger," said Senator Scott. 
"Low-income families should have more of the same choices for schooling that wealthier families already have for their children," Sen. Alexander said. "This legislation will give more American families broader choices of the best possible educational opportunities for their children, and will give states more incentives to create their own scholarship programs."
"There is no greater form of local control in education than directly empowering families to choose the best K-12 educational option for their children. The Education Freedom Scholarships bill is a major step forward in empowering families with greater educational choice and ultimately greater economic benefit for students," said American Federation for Children President John Schilling.
"This tax credit will expand opportunities for individuals interested in a career in the skilled trades and will go a long way in addressing the worker shortage faced by electrical contractors across the country," said Independent Electrical Contractors Vice President Jason Todd.
Key provisions of the Education Freedom Scholarships and Opportunity Act include: 
Optional for States: State participation is optional – an issue important to prevent extending federal control over education.
State Directed: States maintain the authority to create a program that works for them. States can decide which students are eligible for the scholarship credit, what constitutes eligible educational expenses and eligible educational providers, and more.
Encourages Workplace Training Education: There is more than one pathway to success, and our rapidly-changing 21st century economy means that workers need new skills to compete. In addition to elementary and secondary education scholarships, this bill allows for scholarships related to career and technical education, apprenticeships, certifications, and other forms of workforce training for postsecondary students.
Prohibits Federal Control of Education: Clarifies that nothing in this act shall be construed to permit, allow, encourage, or authorize any increased regulation or control over any aspect of a participating educational provider, scholarship granting organization, or workforce training organization. This allows all education providers to be able to participate, without fear of federal control.
Helps Our Most Vulnerable Students: Many low- and middle-income students cannot afford tuition and educational expenses themselves, or do not have the means to pay for the workforce training needed to secure a stable, high-paying job. This tax credit will provide scholarships for these students, so that they can have the opportunity to receive an effective and successful education that prepares them for the future.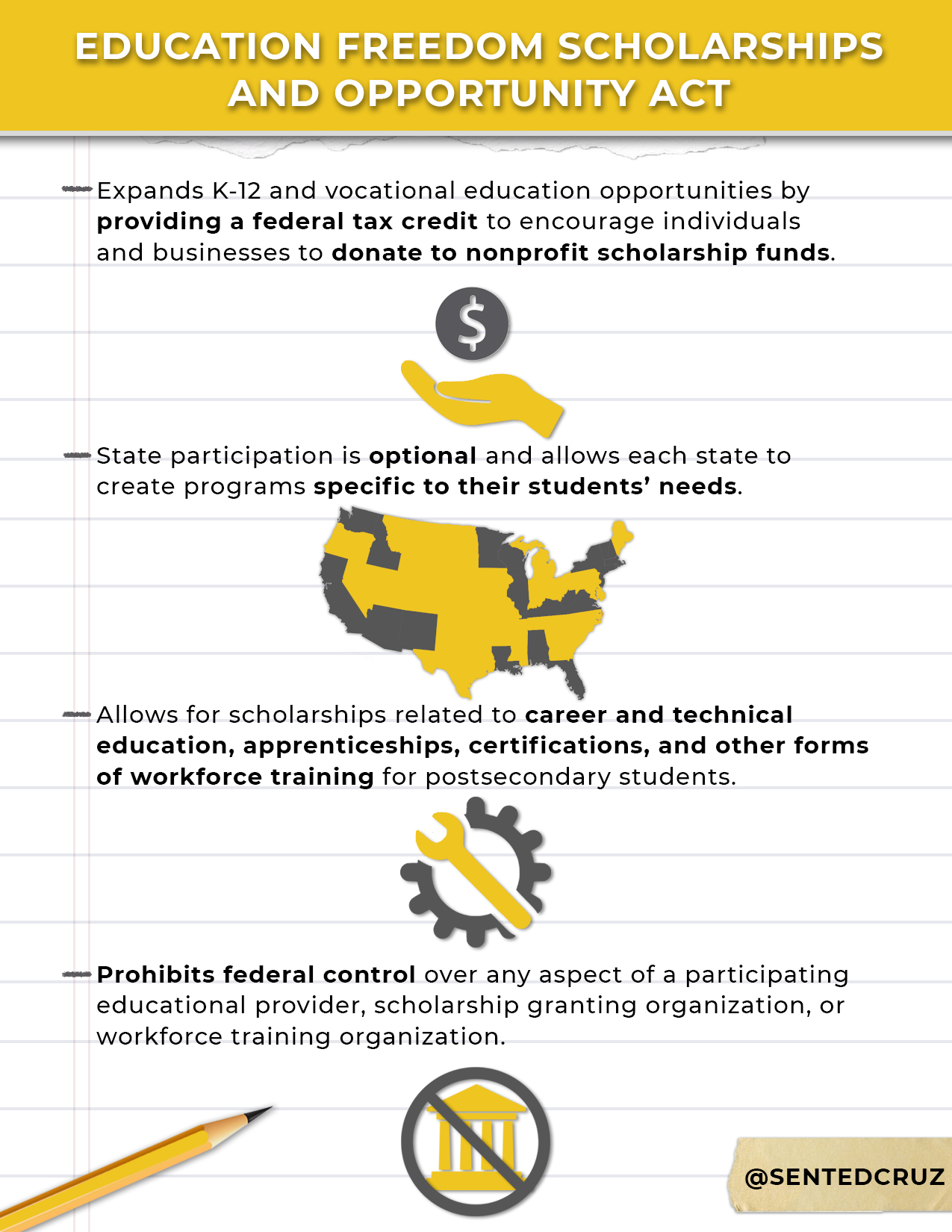 ###