Sen. Cruz, Rep. Smith Reintroduce Student Empowerment Act
Bill expands school choice, access to tax-free educational savings plans
WASHINGTON, D.C. – U.S. Sen. Ted Cruz (R-Texas) and Rep. Jason Smith (R-Mo.) reintroduced the Student Empowerment Act, which would expand 529 College Savings Plans to include K-12 elementary and secondary school expenses for public, private, and religious schools, including homeschool students. This bill builds upon Sen. Cruz's Student Opportunity Amendment, which was signed into law in December 2017, by allowing all students – including public, private, religious, and homeschool students – to use 529 savings accounts to cover eligible educational expenses. Sens. Ron Johnson (R-Wis.), Ben Sasse (R-Neb.), Rand Paul (R-Ky.), Roy Blunt (R-Mo.), Tom Cotton (R-Ark.), James Lankford (R-Okla.), Pat Toomey (R-Penn.), and Mike Lee (R-Utah) are co-sponsors.
"Under the Student Opportunity Amendment, homeschool families were wrongly and cynically excluded by Senate Democrats, leaving them ineligible to utilize the expanded usage of 529 savings accounts," Sen. Cruz said. "This bill re-includes homeschoolers, and empowers every family with access to an education that truly fits their child's needs. I am proud to champion school choice with Rep. Smith, and am hopeful my colleagues will move swiftly to empower all students."
"The Student Empowerment Act will help working families afford everyday K-12 education expenses and plan for their children's future," said Congressman Smith. "Education is a huge driver of unexpected expenses, and expanding access to 529 savings accounts will make it easier for parents to afford an education tailored to their child's unique needs. I thank Senator Cruz for his partnership in making education more affordable and upholding individual liberty in education." 
Sen. Cruz previously introduced the Student Empowerment Act in June of 2018. The full text of the bill may be viewed here. A one-page summary is below. Key provisions of the Student Empowerment Act include:
Allowing all students, including public, private, and religious school students, to use 529 savings accounts to cover eligible educational expenses, such as tutoring, standardized testing fees, and educational therapies for students with disabilities, among other educational expenses.
Reincorporating homeschool students as equally eligible to use a 529 savings account for educational expenses.
Ensuring all families are able to use these tax-advantaged accounts to pay for their child's elementary and secondary education.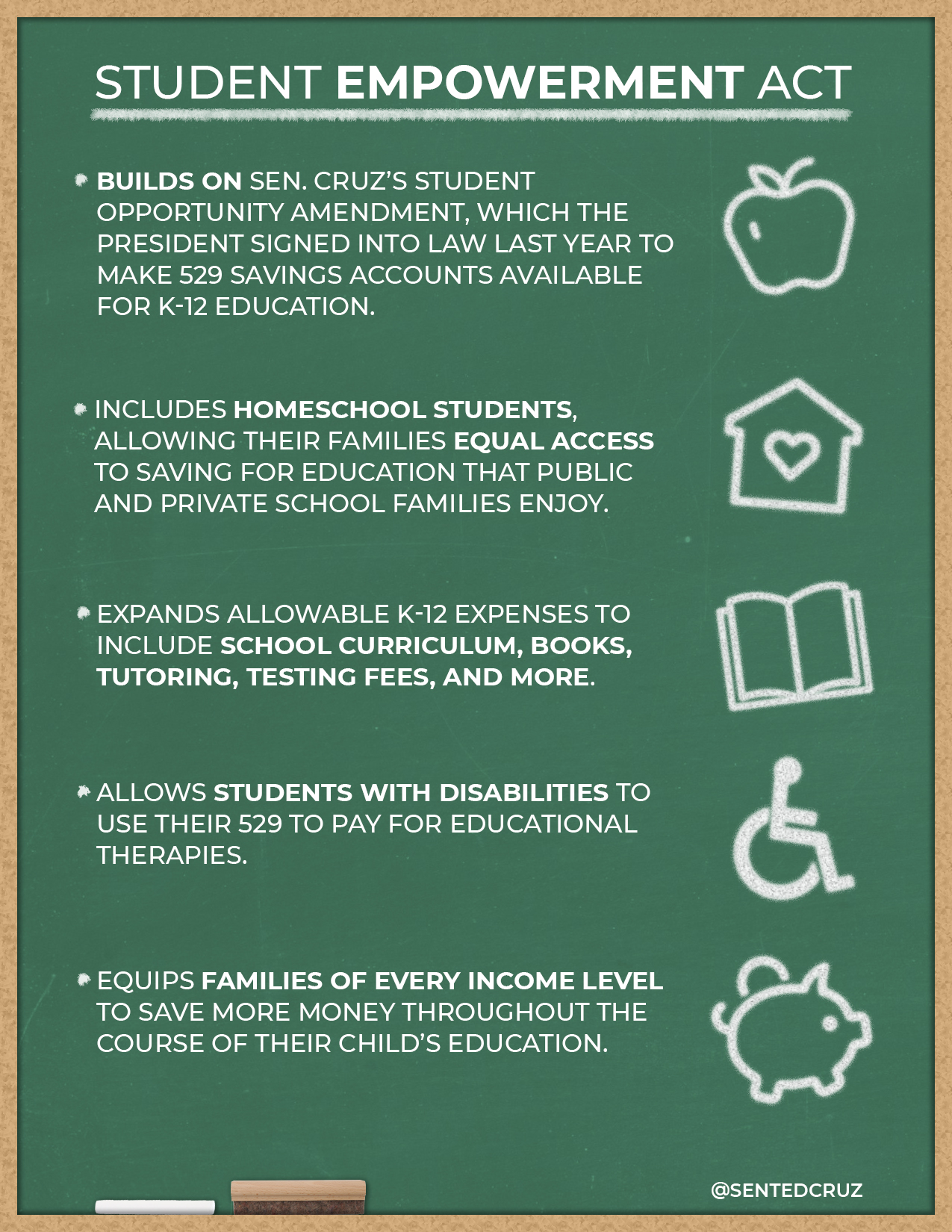 ###