Sen. Cruz Joins Amicus Brief Supporting Texas Landowners
The Bureau of Land Management has arbitrarily claimed thousands of privately owned acres along the Red River
March 31, 2016
| 202-228-7561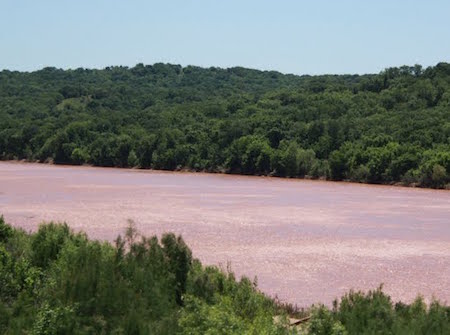 WASHINGTON, D.C. – This week, U.S. Sen. Ted Cruz (R-Texas) joined an amicus brief on behalf of 22 members of the Texas congressional delegation in support of private landowners along the Red River. The Bureau of Land Management has recently made waves by claiming thousands of acres of privately owned Texas land along the Red River. It has done so by utilizing—in apparent violation of a nearly 100-year-old Supreme Court precedent and tradition—an arbitrary and bizarre gradient boundary survey method that has adversely impacted private landowners.
The brief states: "Secure property rights, which are recognized and protected by government, have been and will continue to be vital to our American way of life. The Bureau of Land Management (BLM) has overstepped its constitutional and legal authorities by arbitrarily claiming thousands of privately owned acres of land along the Red River in Texas. The BLM's incorrect application of the gradient boundary survey method is in violation of the explicit U.S. Supreme Court instructions in Oklahoma v. Texas and runs counter to the long-established responsibility of the federal government to protect the private property rights of its citizens. The BLM's claim of ownership over Plaintiffs' private property has caused direct harm to Plaintiffs. The BLM's failure to delineate with reasonable specificity the unsurveyed Texas lands of which it asserts ownership has clouded the title along the 116-mile contested stretch of the Red River, making it impossible for the Wilbarger, Wichita, and Clay County Plaintiffs and Plaintiff Clay County Sheriff Lemons to carry out legislatively assigned duties and responsibilities. In addition, the BLM's actions have the possibility of harming private landowners beyond the 116-mile stretch of the Red River if the BLM's unlawful survey methods are allowed to prevail."
Sen. John Cornyn (R-Texas) and Rep. Mac Thornberry (R-Texas) joined Cruz in the brief along with Republican Texas U.S. Reps. Kevin Brady, Michael Burgess, John Carter, Mike Conaway, John Culberson, Blake Farenthold, Bill Flores, Louie Gohmert, Kay Granger, Jeb Hensarling, Sam Johnson, Kenny Marchant, Michael McCaul, Randy Neugebauer, Ted Poe, John Ratcliffe, Pete Sessions, Randy Weber, and Roger Williams. The case is Aderholt v. BLM, Civ. Act. No. 7:15-cv-00162-O (N.D. Tex.).
In June 2014, Sen. Cruz, with Sen. Cornyn and Rep. Thornberry, introduced the Red River Private Property Protection Act to address this issue and direct the BLM to transfer any land in Texas along the Red River to landowners who can prove through official records that they own the land outright.
A copy of the amicus brief is available here.
###